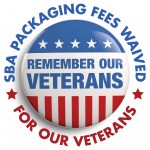 Beginning today, November 11, 2014, 44 Business Capital is pleased to announce that all Veterans will have their packaging fees waived when applying for a Small Business Loan through 44 Business Capital.
Last August, 44 took the U. S. Small Business Administration's Veteran Pledge, a commitment to increase lending activity to veterans by five percent per year for the next five years. 44 took steps to support our Veteran borrowers by streamlining services, dedicating staff to the SBA loan process, and marketing the businesses of our Veteran borrowers. In FY 2014, three Veteran small businesses received financing from a 7(a) loan facilitated by 44 Business Capital in the amount of $3,270,000.
One of these standout client successes is Sean Danowski, a Veteran of both Operation Iraqi Freedom and Operation Enduring Freedom. Sean was looking to acquire an existing business upon graduating with a degree in Entrepreneurial Management from the Wharton School of the University of Pennsylvania. After an exhaustive search, Sean identified the ideal target, a custom molding manufacturer in Montgomery County PA. The company makes products which are marketed to commercial and residential construction contractors. These products included molding and decorative pieces fixed to buildings. The seller was looking to retire and Sean saw considerable upside potential in the business if he grew its marketing efforts. Both the business and its real estate were for sale but Sean had only about 10% to put down. 44 Business Capital and its parent bank (Parke Bank) were able to structure an SBA 7a loan that provided this Veteran the capital he needed.
44 Business Capital realizes that we can "risk a little more for those that risked it all."
44 is committed to helping veterans refinance their existing small businesses or assist them in acquiring a business when leaving active service. We ask that everyone take a moment this Veteran's Day to reach out and thank a Veteran for their service. It is the least we can do for those that preserve our freedom and way of life. As our Veterans return home and transition to civilian life, let's all make the extra effort to find them opportunities to provide for their families who also sacrificed so much.