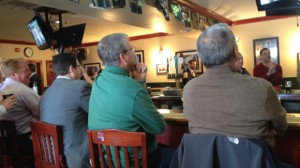 By Paul Kurtz
PHILADELPHIA (CBS) — Hundreds of private March Madness parties are being held throughout the Delaware Valley, including a group that claims to have started the tradition.
Two o'clock Friday afternoon and Maggie O'Neill's in Drexel Hill is packed. The upstairs crowd is chowing down, drinking beer and watching Mercer upset Duke. This is the start of a long day of watching the games, exchanging business cards and playing a little pinochle and Texas Hold 'em.
"We were the first ones to do this," says Jeff Sherry, a small business loan specialist.
Sherry is the brains of this operation that began in a hotel suite 25 years ago.
"We just hung out for two days, bought pizza's, buckets of chicken and then one year a guy said, 'hey, I'm gonna bring a client.' Next thing, everybody brought a client."
And the party grew to include a couple thousand people. Sherry has since scaled it back to a few hundred over a single day for a couple of reasons.
"First of all there are a lot of other parties. There's hundreds of other parties. Everybody's taken a page out of our books, which is fine. And plus our livers can't take it anymore."