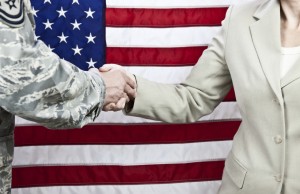 BLUE BELL, PA – 44 Business Capital LLC has taken the U. S. Small Business Administration's Veteran Pledge, committing to increase lending activity to veterans by five percent per year for the next five years. The SBA recently announced the Veteran Pledge Initiative, a commitment by its top national, regional and community lenders to collectively increase their lending activity to veterans. The loan program is designed to help veterans become entrepreneurs. 44 Business Capital is one of the few non-bank SBA lenders in the United States. "We have financed over 100 companies in the past three years whose loans have been turned down by one or more banks." said Greg Poehlmann, 44 Business Capital President. "44 is committed to helping veterans refinance their existing small businesses or assist them in acquiring a business when leaving active service."
The SBA recently reported that veterans often face challenges in raising capital or have trouble receiving a conventional loan. With the support of SBA's top 20 national lending partners, and approximately 100 additional regional and community lending partners across the United States, the SBA expects to help an additional 2,000 veterans obtain loans to start or expand small businesses by increasing lending by $475 million over the next five years. This equals a five percent increase above historic veteran lending activity by the SBA. Veterans can apply by calling 44 Business Capital directly at 215.985.4400 or fill out an online loan inquiry at www.44businesscapital.com.
44 Business Capital, headquartered in Blue Bell, Pennsylvania is a direct lender leveraging the U.S. Small Business Administration's 7a loan program giving small businesses greater access to capital.
Recent loans range from $500,000 to $5,000,000 providing financing for debt restructuring, real estate and business acquisitions.
44 Business Capital is a preferred SBA direct lender serving Philadelphia, Pennsylvania, New Jersey, Delaware, Baltimore MD, Northern VA, Washington DC, and Florida. For further information, please contact 44 Business Capital at 215.985.4400 or online at 44businesscapital.com. The main office is located in Montgomery County at 1787 Sentry Parkway West, Suite 210 Building 16, Blue Bell, PA 19422. 44 Business Capital is also an approved SBA direct lender in South Florida with an office in Kissimmee, Florida.